FULBRIGHT SPECIALIST BRINGS US ELECTION CAMPAIGN ANALYSIS
TO UNIVERSITY CLASSROOMS IN UKRAINE
From mid-October through mid-November our U.S.-Ukraine Foundation colleague, Adrian Karmazyn, was a guest lecturer in Ukraine under the auspices of the Fulbright Specialist Program. Below he describes some of the highlights of his experience.
During the closing weeks of the U.S. election season, I had the unique opportunity to try to explain the key moments
Of the campaign to an audience of Ukrainian university journalism students. On October 16th, I started a one-month Fulbright lecture tour which took me to three cities in Ukraine-Kyiv, Kharkiv and Lviv. My lectures focused on four topics: highlights of the U.S. election campaign, dominant issues in U.S. politics and news coverage, the U.S. media structure (i.e., how Americans get their news), and challenges facing news organizations and journalists today.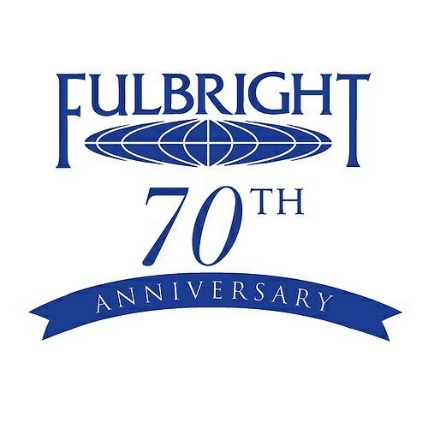 Despite the unusual and complex nature of the 2016 election cycle, based on my 27-year career as a journalist and broadcast manager at the Voice of America's Ukrainian Service and also on my work at USUF, it was hard to contain my excitement about the task of explaining the campaign and other topics relating to life in the United States and the American political system to a Ukrainian audience. And doing so in the Ukrainian language was particularly satisfying. I was pleasantly surprised by the familiarity of Ukrainian students with U.S. current affairs and by their high level of participation in class discussions. Their questions and comments zeroed in on many nuances of U.S. domestic and foreign policy. Naturally, they were quite curious about the possible impact of the election on U.S.-Ukrainian relations.
In our discussions about the situation in their country, students expressed disappointment with what they see as the slow pace of reforms in Ukraine but seemed determined to make a contribution to moving the country forward and integrating with the West. Strong feelings of condemnation of Russia for its war against Ukraine and the pain it has inflicted on Ukrainians were quite palpable. The publication of electronic financial declarations of Ukrainian officials and lawmakers was the leading news story during much of my visit and the revelations of the vast wealth of those who have spent much of their career in low-paying government jobs caused quite an uproar.
In the Ukrainian capital, my host institution was the
Institute of Journalism
of Shevchenko National University of Kyiv, where I presented seven lectures. I had the pleasure of working closely with several faculty members, including Yevhen Tsymbalenko, Olena Fomenko, Taras Petriv and Olha Hresko. I also had presentations at the
Diplomatic Academy
of Ukraine's Foreign Ministry and at the U.S. Embassy's
America House
. On the sidelines of my program, I had the opportunity to hear the latest political and economic assessments from Viktoriya Syumar (Member of Parliament), Andy Hunder (American Chamber of Commerce), Ihor Hut (Develop Your Business), Vasyl Zoria (former press-secretary of Ukraine's Embassy in the USA) and Svitlana Zalishchuk (MP and co-founder of
Chesno
,
a transparency-promoting NGO, which was marking its fifth anniversary).
| | |
| --- | --- |
| | |
| | With Taras Petriv's students at Kyiv National University's Institute of Journalism. |
The host institution for the second half of my Fulbright assignment was the
Journalism Department
of Karazin Kharkiv National University, where I taught undergraduates. I also lectured at the university's
Media Communications Department
, which runs an impressive master's degree program. My faculty colleagues at "Kharkiv U" were Liubov Khavkina, Maksym Balaklytskyi, Nataliya Nechayeva, Nila Kalashnyk, Lidiya Starodubtseva and Nataliya Drozd. (Besides being the preeminent institution of higher learning in the region, the university has a noteworthy museum devoted to its own history and a delightful
archeological museum
with artifacts excavated in the Kharkiv area, dating back thousands of years).
.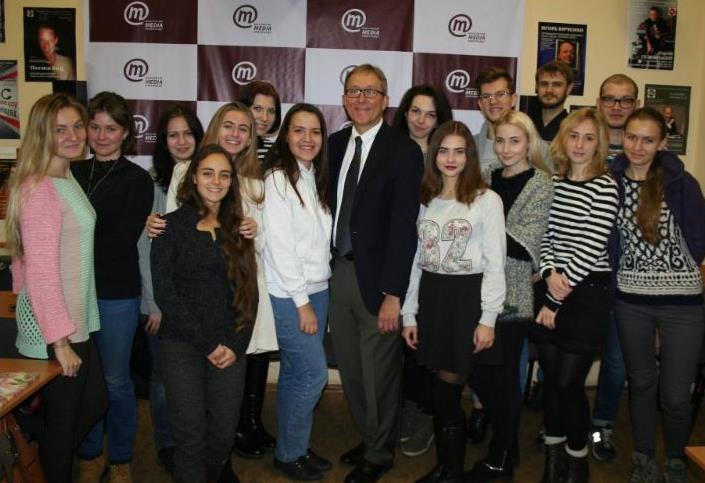 With Lidiya Starodubtseva's and Nataliya Drozd's students at the Media Communications Department at Kharkiv National University.
I was also introduced to a number of inspiring activists, representing such NGOs as
Kharkiv with You
,
Kharkiv Art Space
, the Kharkiv Community Fund
Toloka
, and the scouting organization
Plast
, as well as the English-language
Kharkiv Observer
website. Many of those with whom I spoke in Kharkiv are quite proud of their city and of their efforts in support of the military and those wounded or displaced, due to Russia's war in the Donbas. Kharkiv with You is spearheading a national Vertep (caroling and Christmas pageant) festival to be held during Ukrainian (old calendar) New Year's celebrations-an important example of the civic, cultural and spiritual revival taking place in Ukraine's second most populous city.
An announcement for the Kharkiv with You Vertep-Fest, a Christmas and New Year's caroling festival
to be held in Kharkiv in January.
I wrapped up my program with a brief visit to western Ukraine where I lectured to journalism students of the
New Media Department
at Franko National University of Lviv. My faculty partners there were Nataliya Habor and Andriy Yatsenko.
My interactions with students in the course of nearly 20 class sessions have left me heartened and confident about Ukraine's future.
Thanks to Marta Kolomayets and her team at the Kyiv Fulbright office for such a rewarding experience. I encourage other Americans to participate in this or other exchange programs with Ukraine.
For more information about how to apply for the Fulbright Specialist Program
click here.